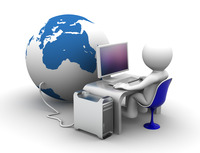 New TED Talks are added frequently. Feel free to contact me
the link to your favorite TED TALK and I will post it here!
---
"The Power of Believing that You Can Improve"

(Filmed November 2014)
---
"10 Myths about Psychology Debunked"
(Published February 4, 2015)
How much of what you think about your brain is actually wrong? In this whistlestop tour of dis-proved science, Ben Ambridge walks through 10 popular ideas about psychology that have been proven wrong — and uncovers a few surprising truths about how our brains really work. What is your PSY-Q?
---
"Brain to Brain Communication"
(Published Jan. 26, 2015)
You may remember neuroscientist Miguel Nicolelis — he built the brain-controlled exoskeleton that allowed a paralyzed man to kick the first ball of the 2014 World Cup. What's he working on now? Building ways for two minds (rats and monkeys, for now) to send messages brain to brain. Watch to the end for an experiment that, as he says, will go to "the limit of your imagination."
---

The First 20 Hours -- How to Learn Anything
 (Published on Mar 14, 2013)
Josh Kaufman is the author of the #1 international bestseller, 'The Personal MBA: Master the Art of Business', as well as the upcoming book 'The First 20 Hours: Mastering the Toughest Part of Learning Anything.' Josh specializes in teaching people from all walks of life how to master practical knowledge and skills. In his talk, he shares how having his first child inspired him to approach learning in a whole new way.
---
"In the Key of Genius"
Published on Apr 4, 2013

Born prematurely at just 25 weeks, Derek Paravicini has suffered from blindess, learning impairment and severe autism for his entire life. Despite his impairment, Derek has the unique gift of perfect pitch, and is able to play any piece of music after hearing it only once. In 2010, Derek was featured on Stan Lee's "Superhumans", whereupon tests verified his musical ability and confirmed his savantism. He began playing the piano at two, and subsequently attended the Linden Lodge School for the Blind in London. He met a piano instructor, Adam Ockelford, on his first visit to the school; recognizing his genius, Adam began to teach him. Derek gave his first concert in South London aged seven. Adam is a Professor of Music at the University of Roehampton, the Chair of Soundabout, a charity supporting music provision for young people and founder of the AMBER Trust, supporting visually impaired children in their pursuit of music.
---
"Coding is for Everyone"
(Published November 2012)
Coding isn't just for computer whizzes, says Mitch Resnick of MIT Media Lab — it's for everyone. In a fun, demo-filled talk Resnick outlines the benefits of teaching kids to code, so they can do more than just "read" new technologies — but also create them. (Filmed at TEDxBeaconStreet.)
---
"How AI Can Bring on a
Second Industrial Revolution"
(Published June 2016)
"The actual path of a raindrop as it goes down the valley is unpredictable, but the general direction is inevitable," says digital visionary Kevin Kelly — and technology is much the same, driven by patterns that are surprising but inevitable. Over the next 20 years, he says, our penchant for making things smarter and smarter will have a profound impact on nearly everything we do. Kelly explores three trends in AI we need to understand in order to embrace it and steer its development. "The most popular AI product 20 years from now that everyone uses has not been invented yet," Kelly says. "That means that you're not late."
---